Meet The Pastor And First Lady
Pastor Mc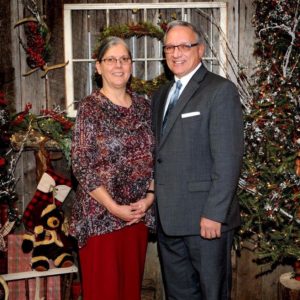 Kinney is a 1976 graduate of Phelps High School and attended Eastern Kentucky University and Southern West Virginia Community College. Sis. McKinney is a 1977 graduate of Phelps High School, a 1988 graduate of Southern West Virginia Community College where she received an Associates Degree in General Studies, 1989 graduate of Pikeville College where she received a Bachelor of Arts Degree in Middle Grades Education, and 1991 graduate of Morehead State University where she received a Master's Degree in Middle Grades Education. Sis. McKinney furthered her ranking to Rank 1 by completing and passing courses for National Board Certification in 2001. Sis. McKinney teaches at Phelps Jr. High School, Phelps, Kentucky where she has received many accommodations, one of which was Middle School Teacher of the Year in Pike County, Kentucky in the year 2000.
Pastor and Sis. McKinney met in high school and after they graduated were married on September 10, 1977. Pastor and Sis. McKinney accepted the Lord into their lives on January 18, 1981. They went to the altar the same night. They were baptized together in a small creek, known as Peter Creek, at Phelps Kentucky January 25, 1981. After praying for awhile, both Bro. and Sis. McKinney received the baptism of the Holy Ghost evidenced by speaking in other tongues as the Spirit gave the utterance.
Not long after receiving the Holy Ghost, Bro. McKinney felt the call of the Lord into the ministry. Bro. McKinney was ordained and licensed in August 1982 and fulfilled many capacities in the church that he assisted in for 16 years. Bro. and Sis. McKinney were Junior, and later, Senior Class Sunday School Teachers.
Bro. McKinney taught the Wednesday Bible Studies and served as Choir Director, Musician, Youth Director, Van Driver, Sound Technician, and Tape Ministry Director. Bro. McKinney is the founder of The Apostolic Voice Of Phelps Radio Broadcast, heard every Sunday at 9:30 a.m. on WQHY-FM, 95.5 out of Prestonsburg, Kentucky. Bro. McKinney also founded and established the monthly newsletters The Apostolic Voice Of Phelps and The Apostolic Voice Of Jamboree.
On July 13, 1997, Bro. McKinney established Cornerstone Apostolic Church at Mouthcard, Kentucky. After 14 months at Mouthcard, Kentucky, the congregation voted to purchase land at Jamboree Kentucky and to build a new Sanctuary. Cornerstone Apostolic Church moved to its present location at 25 Beech Creek, Phelps, Kentucky in September 1998. Bro. McKinney established the A.C.T.S. Fellowship, a time of Apostolics Coming Together Services (A.C.T.S.), where once a month Apostolics come together for fellowship and church. Sis. McKinney presently serves as Church Secretary, teaches the Youth Class, and is a member of CAC Praise Team which leads the singing in our Spirit-filled services.
Bro. McKinney had a vision to lead the church into this technology age by establishing some Internet based programs. CAC iRadio is an Internet based radio station that plays 24/7 Gospel programming, the first of its kind in eastern Kentucky; and Cornerstone Apostolic Church was the first in the area to bring Live Webcasts of Church services to the community and the world. I
n December 2013, Pastor McKinney established

CAC Daily iCast

, "A Little Bit Of Church Every Day, Home Bible Study 21st Century Style", a daily 2 hour Broadcast, Weekdays 10am-12pm EST, that gives those who work, those who are confined to homes or nursing homes, and those who simply want more church during the week, the opportunity to to be in church on their schedule. CAC Daily iCast has a faithful viewership from all across the U.S. and around the world.
Pastor McKinney's ministry has the respect of churches and ministers from Independent Churches, Assembly Of The Lord Jesus Christ Churches, and the United Pentecostal Church, Intl, and while having great fellowship with them all, through much prayer on October 17, 2016, Pastor McKinney became a licensed ordained minister with the United Pentecostal Church, Intl.
Bro. McKinney has written several songs and publications. The latest publication Knowing When It's Time, deals with changing churches and surviving the change. Check out the link to ordering this publication.
Bro. and Sis. McKinney would like to extend an invitation to you and your family to come and be a part Cornerstone Apostolic Church.
Follow Pastor McKinney on Twitter @PastorRDM