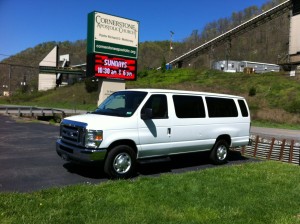 If you need a ride to church, you can call the Church @ 606.456.4400 and leave a message or call Emily Charles @ 606.494.6366. You will need to call preferrably the day before the service you want to attend and no later than 2 hours before the service you want to attend.
Cornerstone Apostolic Church reserves the right to limit mileage and travel time in order to have passengers to church on time. Hope to see you in future services.
When your child wants to ride the Church Van, you are initially asked to sign a permission slip for regular and special scheduled services at CAC. Anytime your child wants to travel on the Church Van to an Event that Cornerstone Apostolic Church sponsors, you are required to sign a trip specific permission slip before they will be allowed on the Van. You can print out the permission slips below and fill in the pertinent information, then give that to your child to give to the Van Driver or SS/Youth Director.
Van Permission Slip Form For Trips
*Unfortunately, van is not handicap accessible.