Cornerstone Apostolic Church was founded on July 13, 1997, with a call and a vision to be a place where the lost, the hurting, and the backslider could come and find salvation, healing, and restoration. We set out
to find a place where we could begin this new work. We started out with about 11 people as we rented a vacant brick church building located on US Highway 460 East at Mouthcard, Kentucky. This building was fully furnished and ready to start having services in, and it also met our budget that we had at that time. This building would be our location for the next 14 months. On our very first service, we had 94 people in attendance and one person started praying, as this would prove to be the beginning of many wonderful things to come. The following weeks, we were either having someone to start praying or we were baptizing someone. The Lord was abundantly blessing our humble beginnings.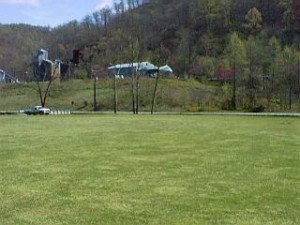 As we continued to grow, we started to look for a permanent place to become established. We found a tract of land at Mouthcard, Kentucky and a tract of land at Jamboree, Kentucky and we presented these two tracts of land before the Church for a vote on where the permanent home of Cornerstone Apostolic Church would be located. The Church voted to buy the tract of land at Jamboree, Kentucky.
The unique thing about the land purchased at Jamboree, Kentucky was that it is the location where the first Apostolic Message was preached years ago in the area in a one room school house that was located on the property. They would have school during the week and then use the school as a church on weekends. CAC is very proud to continue, on the very same land, the preaching and teaching of the apostles and prophets, Jesus Christ Himself being the Chief Cornerstone. So the rich history of Apostolic Heritage continues.
We had ground breaking on May 9, l998 with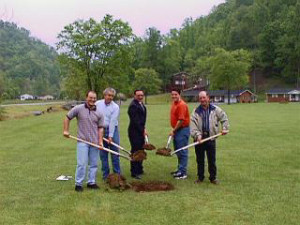 about 35 or 40 in attendance. We then entered into a building program to build a building 40′ x 104′ that would have Cathedral Ceilings in the Sanctuary, a Balcony in the back, an upstairs and downstairs in the back, 5 Sunday School Rooms, Kitchen/Dining Area, two handicap accessible restrooms, a heated Baptistry, a paved parking area, and a seating capacity of approximately 190 people. Within 4 months from Ground Breaking, we had our first service in the finished Sanctuary on September 27, l998. After a few services in the new building, we held our Dedication Service on October 18, l998. Our record attendance was set during the Dedication Services with 175 in attendance.
Since that Dedication Service, we have had many revivals, hosted a Gospel Sing with the nationally known gospel group The McGruders, and even took a Church trip to Eureka Springs Arkansas to tour a life size replica of the Tabernacle of Moses.
As our Youth Department began to grow, we once again entered into a building program. We broke ground for the new Cornerstone Apostolic Church Youth wing on September 12, 2010. One year later, construction was finished, and on September 11, 2011 we dedicated the new 2400 sq. ft. Dining Area along with the new 2400 sq. ft. Upper Room of the C.A.C.Y. wing. The Cornerstone Apostolic Church Youth (C.A.C.Y.) wing is used for youth events and Sunday School events. It is an awesome place to send your children so they can learn about Jesus.
We have the facilities to take
care of baptisms, funerals, and weddings. We would like to invite you and your family to come and visit with us at Cornerstone Apostolic Church. We feel that you will enjoy the atmosphere of Christian Fellowship as we worship the Lord together in Spirit and in Truth. We have Sunday School Classes for all ages, an activity packed Youth Program, dynamic Bible Studies, and Spirit-filled Services. Our community is very important to us, one in which we want to make a positive impact. We hope to see you in future services, and pray that your visit will be a blessed one. If we can be of assistance to you and your family in any way, please don't hesitate to contact us.
On Wedne
sday, September 8, 2020, the congregation of this Home Missions Work of the UPCI, Intl established on December 4, 2012, unanimously voted for Pastor McKinney to take the Church at Pikeville as Pastor. Pastor McKinney accepted and the Church at Pikeville is now a daughter work of Cornerstone Apostolic Church and CAC Ministries.
Pastor and Sis. McKinney have a great vision for the Pikeville Church and we are expecting Revival and growth to produce a great Apostolic presence in the Pikeville, KY area. Bro. and Sis. McKinney, along with the congregation of Pikeville Apostolic Church invite you and your family to come and be a part of a growing work. The Church is currently located at 4754 Raccoon Road. Find your home at PAC.